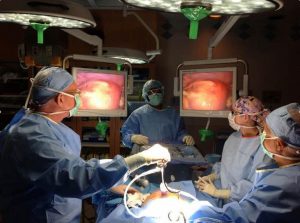 MY PRACTICE IS DEVOTED TO THE CARE OF WOMEN:  I have extensive experience in all aspects of gynecologic surgery and am board certified in gynecology.  I received my gynecologic surgical training at the original Mayo Clinic in Rochester, Minnesota.  My primary sources of continued growth and learning include a mixture of extensive hands on experience, post graduate courses, professional organizational meetings, articles, online videos all coupled with a never ending evolution of COUNTLESS carefully introduced incremental (never-ending) improvements.  I frequently review notes and discuss cases with other gynecologic surgeons.
AN OBSESSION: As a result of a book called The Checklist Manifesto by Harvard Surgeon Atul Gawande,  you'll note I greet each patient pre-operatively and go down a careful checklist just before surgery. This optimizes safety, reassures the patient and lets me know who to report to immediately after the case.  At this point I am able to put copies of recovery information directly in the hands of family members or significant others.
MINIMALLY INVASIVE GYNECOLOGY: I started minimally invasive gynecology in the 1980s pioneering the introduction of laparoscopic management of ectopic pregnancies years before most local physicians had done their first case.   After attending meetings (San Diego)  with and studying Doctor Kurt Semm's advanced laparoscopy textbook cover to cover, I advanced my laparoscopic technique dramatically by incorporating laparoscopic myomectomy.  In the early 1990s I was in the room in Dallas Texas when Harry Reich MD announced and demonstrated a video of the first laparoscopic hysterectomy. You could have heard a pin drop in the room.  Afterwards there was a flurry of criticism that it was foolish and unsafe.  Now nearly all hysterectomies are performed using the minimally invasive approach with 8-16 hours of hospitalization then home!!!  
2005 A TURNING POINT:  I first attended a meeting in Dallas and listened to a surgeon (Tom Lyons MD) who championed the simple, effective supracervical approach.  Next I took the Total Laparoscopic Hysterectomy course put on by Steve McCarus MD at Celebration station in Orlando Florida.  I started doing simple Laparoscopic Hysterectomy cases with great caution and lots of planning before each case.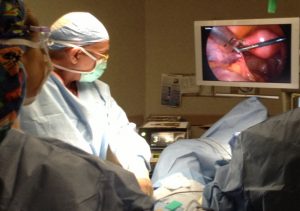 2006 A BREAKTHOUGH: When I attended Gynecologic Oncologist Doctor Kate O'Hanlan's extraordinary course in San Francisco,  I learned to do a Laparoscopic Hysterectomy exclusively through thru tiny 5 mm ports. Since that time over 95% of my cases have been through these tiny ports.  These entry incisions are MUCH smaller than the four 8 mm ports most commonly used with the the Da Vinci Robot (I'm NOT a fan).  After a number of smaller courses I went back and took Dr. O'Hanlan's course again in 2011 to push to an ever higher level of expertise.
2011 MORE TRAINING: I went to Tampa Florida to the state-of-the-art CAMLS facility: Center for Advanced Medical Learning and Simulation.  At this site they integrate cutting-edge simulation technology, aviation science, team training, and evidence-based best practice into innovative programs with measurable outcomes.
MY HYSTEROSCOPIC EVOLUTION:  After working with a porcine (pig) uterus and subsequently cow uterus in 1984 I did the first endometrial ablations at Virginia Beach General Hospital using a Neodynium Yag Laser.  I continued through MANY generations of treatment options: Laser, rollerball, roller cylinder, resectoscope, Thermachoice Balloon, Cryosurgery, Microwave, Radiofrequency (Novasure), Versapoint and Princess systems.  Now I most commonly use Minerva  and have an excellent track record of safety and success.
THE DAVINCI ROBOT:  I am NOT a fan.  It does allow the surgeon to sit down comfortably for nearly the entire case and this contributes to its popularity.  It helps Doctors who don't have the dexterity to comfortably accomplish most advanced procedures laparoscopically.  But it has NOT been shown to be better.  In many (most) instances it hasn't been shown to even be as good as experienced Advanced Laparoscopic Surgery.  Read my blog  at the bottom of the home page.